McKenna Riley Memorial Scholarship Program
---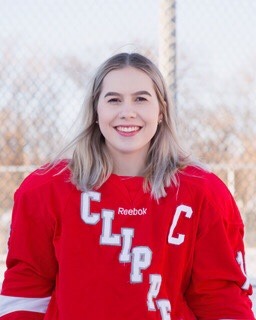 The McKenna Riley Memorial Scholarship Program was created by the Riley Family to honour their daugher McKenna, who was passionate about playing hockey in the MWHSHL. She was an amazingly humble and compassionate young woman. She found beauty and peace in the outdoors. McKenna showed determination in hockey and life by setting the example of what it means to be a supportive, caring and encouraging person. McKenna's teammates and family remember her brightening any room with a smile, kind heart, positive attitude and infectious laugh. She showed kindness with her big heart and respect for those around her.
McKenna played with the Sturgeon Heights Huskies before joining the Kelvin High Clippers, where she served as team captain in the WWHSHL. Her leadership, sportsmanlike attitude and skills were noticed upon entrance to the Manitoba Women's Junior Hockey League. McKenna was a leader with the Silvertips throughout her time playing Junior and made significant contributions both on and off the ice.
McKenna was dedicated and excelled at the University of Winnipeg with her sights firmly set on a career as a Speech-Language Pathologist. McKenna earned her place on the Dean's Honour List, as well as receiving an Academic Proficiency Scholarship for the 2019-2020 school year. Her family and friends loved her, and this scholarship is being awarded in her name to carry on her legacy for what the game of hockey represents: determination to set goals, live dreams and do good for others. She will always be remembered as an adored daughter, sister, friend and teammate.
Scholarship Criteria:
• Must be playing in the MWHSHL (formerly Winnipeg Women's High School Hockey League (2022-2023);
• Must be in Grade 12 and planning on registering in a degree/diploma/certificate program in any recognized post-secondary institution;
• Academic success will be a consideration, but not be the main priority.
The successful candidate must demonstrate the following Sportsmanlike qualities: - Self-confidence - Courage - Self-directed - Honesty - Goal oriented - Dependability - Team player - Respectful - Good time management - Willing to learn - Focus - Passion for hockey
Deadline: THURSDAY, March 21, 2024 at 4 PM.
Winners by Season: